GO Weather - Widget, Theme, Wallpaper, Efficient
6.155
Weather Widget – Stay Updated About the Weather
If you want to find out what kind of weather you can expect in your area in the coming days then this weather app is ideal for you. Weather is a useful app which lets you know about the current weather conditions in your area and around the world. It offers accurate weather information and provides alerts to you regarding severe weather. Moreover, with this app, you can learn about heavy winds and rainfall beforehand. You can look at daily and hourly weather forecasts to get an idea of how the weather is going to remain for the rest of the day. This app also lets you place a weather widget of your choice on the screen too. You can customize the widget as per your preferences.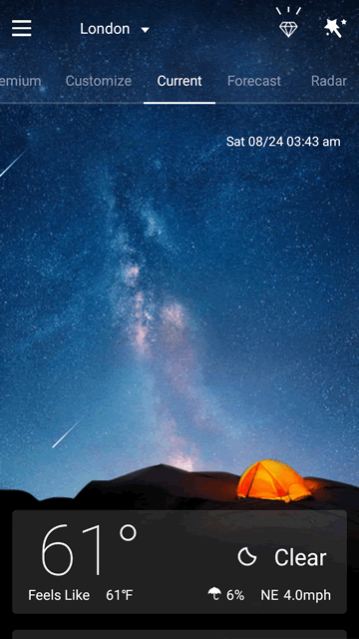 GO Weather has an intuitive user interface which meshes well with its elegant design and layout. This weather app makes use of your phone's GPS to pinpoint your location and displays the current temperature and weather conditions there. The display screen has a wallpaper that indicates how the weather is like outside. You can find the details about the weather, the current temperature, wind direction and chances of rainfall at the base of the screen. If you want to find detailed information about the weather then you just have to scroll up. As you scroll up, details regarding other weather parameters like UV index, pressure, humidity, visibility and dew point will appear. You will also see tips for outdoor activities and driving too.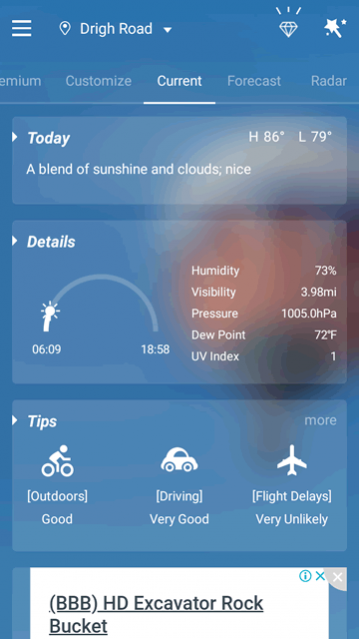 This weather widget provides weather forecast for up to 5 days to you. There is a separate tab provided to see the weather forecasts. If you want to find out the weather forecast for a different city, you just need to type its name in the location box. This box can be found at the top-left of the screen. The cities you search for will be automatically saved by the app. Thus, you won't have to search for them again. You would just have to click their name in the location box menu to know how the weather is there. This app also provides forecasts for rainfall and wind too. These forecasts can help you in planning your outdoor activities.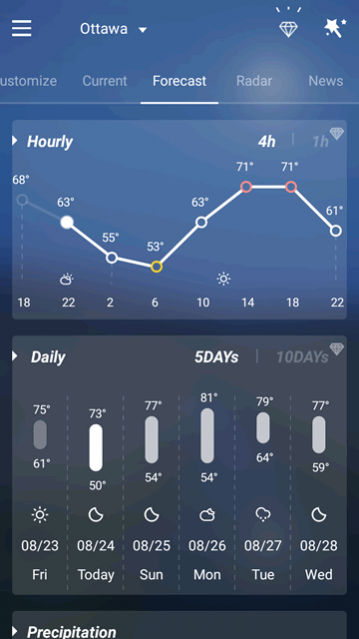 GO Weather lets you receive weather updates on your Lock Screen. You can also set weather wallpaper on your home screen. Setting this wallpaper will require to first navigate to the Customize tab and then access the Wallpaper section. In this section, you will have to tap the 'Settings' icon located at the top-right corner of the screen. It will direct you to a menu where you need to choose the 'Set as desktop wallpaper' option. You will get to choose the city whose weather wallpaper you want to set on the screen. Do keep in mind that the wallpaper will revert to the default wallpaper if the phone is rebooted.
Features:
Intuitive user interface
Elegant design and layout
Search for weather details of other cities
Displays current weather information
Provides detailed information regarding the weather
Daily and hourly weather forecasts on offer
Offers forecasts for wind and rainfall
Map and Radar for viewing satellite images
Get alerts about severe weather
Find weather updates on Lock Screen
Customize the widget and wallpaper
Place a weather widget on your home screen
Conclusion:
GO Weather is an app which is designed for people who want to remain updated about the weather. It offers them the chance to place a weather widget on their phone's home screen and allows them to find out the accurate temperature at their location as well as in other cities. It is a weather app worth having on your phone.
---
Add a review
Tell us your experience with
GO Weather - Widget, Theme, Wallpaper, Efficient
6.155
RELATED PROGRAMS
Our Recommendations
---
---
---
---